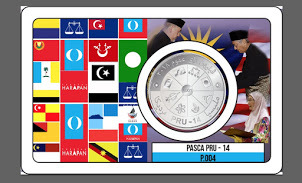 PASCA PRU-14 MALAYSIA (Version 2) - 1DiRHAM
Name: PASCA PRU-14 2018 - MALAYSIA
Code: 6 - 04 / 2018
Issuer: QC DiRHAM
Launched: MAY 2018
Collection/Series: ASEAN POST-ELECTIONS
Series: 1 of 2 ( Serie 1 - MALAYSIA / Serie 2 - INDONESIA )
Version: 2 of 2.
Mintage: 202 pieces.(Total Mintage: 222.Version 1 -20 pcs / Version 2 -202 pcs )
Description:
1. Commemorative coin to commemorate the PRU-14 results.
2. Highlighted are:-
A. The Prime Minister and Deputy PM sworn-in under the new government.
B. The number of seats in Parliament won by the respective political parties
are highlighted.
C. The party(ies) forming the Federal and respective State Governments.

3. The party winning the respective Parliamentary Seat Niumber is highlighted
by the winning Party's colour.
For example: LIGHT BLUE - PKR / GREEN - PAS / DARK BLUE - BN )
4. "PRODUK UMMAH" logo printed on information card.
---