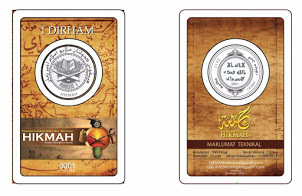 MINTING OMMISSION - HIKMAH, 1DiRHAM
MINTING OMMISSON:
Serial Number were NOT Engraved on the Coin.
Name: HIKMAH
Code: 02 / 2017
Mintage: 1313 pcs.
Denomination: 1 Dirham.
Launch:
JULY 2017 at Tanjung Malim, Perak DR - MALAYSIA.
Description:
1) A number of HIKMAH Silver Dirham coins were minted without the Serial Number on the coin.

2) LESS than 100 pieces are in circulation.
---